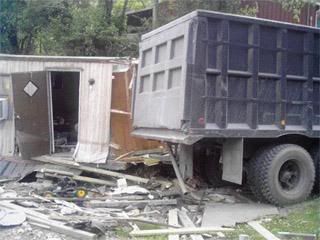 A Pike County couple was left homeless this week after a 10-wheel tractor trailer demolished their home.

The Kentucky State Police is still investigating the accident that left a tractor trailer belonging to the J.S. Reed Company in the bedroom of Lenny and Libby Ford on Lower Johns Creek.

"We ain't got a home," Libby Ford said.

The Ford couple, who moved into the mobile home after their house burned last year, has been staying with family members since the accident Monday evening. Company owner John Reed said an insurance adjuster was scheduled to visit the site yesterday.
"I hate that it happened," he said. "I'm glad nobody was home. Accidents happen. I don't think it was necessarily anybody's fault. It's just one of them things."

Reed said driver Charles Thompson lost control of the truck when he had a blow-out or when he dropped a wheel off the side of the road. He couldn't regain control of the truck, which ran approximately 290 feet through a neighboring yard and fence before crashing into the mobile home.

Thompson was not injured.

Kentucky State Police Trooper Kevin Thacker, lead investigator, was unavailable for comment.